The southern charm of Mississippi is undeniable, and Hattiesburg is the perfect example of this. As the third most visited city in the state, the charm of Hattiesburg lies in its southern hospitality, its strong sense of community, and its rich history.
The town is also known as Hub City because of its central location — at the intersection of Interstate 59 and US Highways 49, 98, and 11. From exploring the great outdoors to indulging in some delicious homestyle cooking, there's so much to do in Hattiesburg!
Ready to learn more? Here are 17 things to do in Hattiesburg MS that you don't want to miss.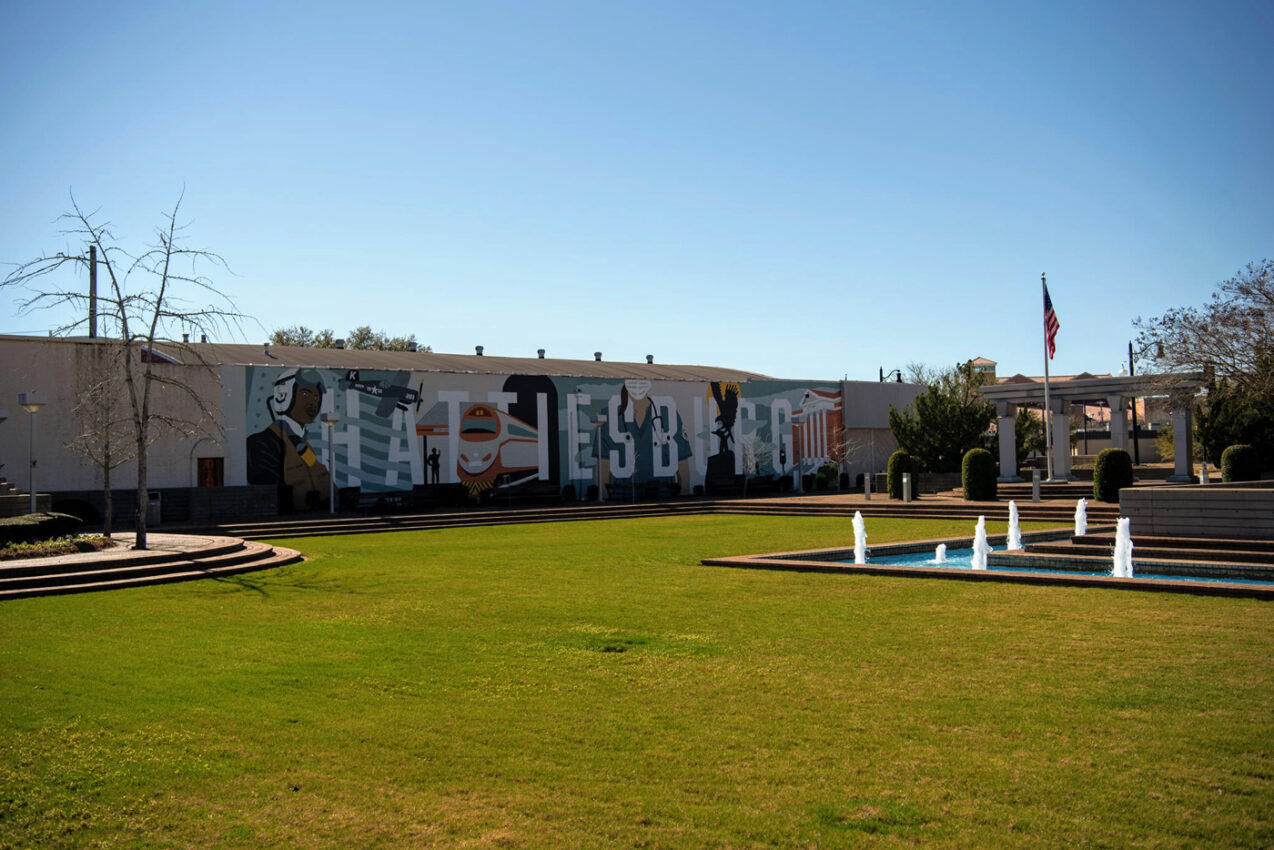 HATTIESBURG ZOO
First on our list of things to do in Hattiesburg is visiting the Hattiesburg Zoo. This family-friendly outing is home to over 55 species of animals, including crowd favorites like the Touch Africa Petting Zoo, the Australian Wallaby Walkabout, and the Sloth Experience.
The 12-acre Hattiesburg Zoo is one of the most popular attractions in Hattiesburg and is reasonably priced. Note that it's also a field trip destination for many school groups, so it can get crowded during the week.
During your visit, check out the scenic red and blue train that circles the zoo. The train is a great way to see the whole zoo without walking too much. There's also High Ropes Adventure Course, a new addition to the Hattiesburg Zoo and is perfect for thrill-seekers. The course includes a 4-story course for children and adults.
Finally, the Splash Pad is a great way to cool off on a hot day.
PAUL B. JOHNSON STATE PARK
Paul B. Johnson State Park is a great option for those looking to spend some time outdoors. The 1,800-acre park is also part of the famous Longleaf Trace, a 40-mile paved trail that runs from Hattiesburg to Prentiss.
The park offers a variety of activities for visitors, including fishing, hiking, biking, a camping area, and more! As it's located in the Pine Belt region of Mississippi, the park is also a great place to get a sense for some of the state's unique plant and animal life.
In addition to the many activities available, Paul B. Johnson State Park is also home to several events throughout the year, including the famous Pine Belt Bluegrass and Liberty Folk Festivals.
GEIGER LAKE
Geiger Lake is a fantastic place to spend a day if you're looking to cool off during your visit to Paul B. Johnson State Park. The lake has a sand beach, a playground, and a picnic area. There are also several hiking trails in the area.
If you have a boat, you can launch it for the pier at Geiger Lake.
LONGLEAF TRACE TRAIL
Speaking of the Longleaf Trace Trail, it deserves an entry of its own on our list of things to do in Hattiesburg. The Longleaf Trace Trail is very popular with cyclists, runners, and nature enthusiasts.
You might even encounter equestrian riders, as the trail is also open to horseback riders. The path is 10 feet wide and is made of compacted crushed limestone, making it ideal for a comfortable stroll.
Some side trails branch off from the main route for those who want to explore the unbeaten path. These side trails lead to different points of interest, which you can find on the track maps.
MISSISSIPPI ARMED FORCES MUSEUM
If you're looking for something slightly different, the Mississippi Armed Forces Museum is a great option. The museum is located on the grounds of Camp Shelby and is dedicated to preserving the state's military history.
The museum has many exhibits which chronicle the state's involvement in various wars and conflicts. There is currently an exhibition on the Vietnam War, including personal items and stories from Mississippi soldiers who served in the conflict. There is also a research library on-site, which contains a wealth of information on the state's military history.
AFRICAN AMERICAN MILITARY HISTORY MUSEUM
The African American Military History Museum is another great option for those interested in learning about the state's military history. The museum is located in the historic downtown area of Hattiesburg, Mississippi, and is dedicated to preserving the stories of those brave African American soldiers.
The museum has exhibits that chronicle African American soldiers' experiences from the Civil War to the present day. The site is part of the National Register of Historic Places and offers a unique way to learn about and honor the contributions of these brave African American soldiers.
HATTIESBURG POCKET MUSEUM
Front Street is home to several historical landmarks, including the Hattiesburg Pocket Museum. Dubbed 'the smallest museum in Mississippi,' the Hattiesburg Pocket Museum displays tiny artifacts that tell the big story of Hattiesburg's history.
From Swiss Army pocket knives to Mardi Gras beads, the Hattiesburg Pocket Museum has something to make you chuckle, guaranteed. It has slowly captured the heart of locals, who describe it as a fun activity that all can enjoy.
SOUTHERN PROHIBITION BREWERY
Southern Prohibition Brewery is the go-to destination for a unique and delicious craft beer. The brewery offers a variety of year-round and seasonal beers, as well as a rotating selection of guest taps.
In addition to the tasty beer, Southern Prohibition Brewery also has a cook that serves up some pretty darn good food. They have been closed to renovate the kitchen but will be reopening this spring!
SPB also offers curbside pickup and delivery, so you can enjoy their beer from the comfort of your own home.
PUBLIC ART MURAL TRAIL
Mural art is a growing trend across the U.S., so we were excited to see that Hattiesburg has its own Public Art Mural Trail. The trail comprises murals, sculptures, and paintings that local and regional artists have created.
The murals are located throughout the city and depict various scenes and characters. You can choose between driving past the trail or getting up close and personal by taking a walk or biking. Exploring the public art is one of the best things to do in Hattiesburg MS.
When visiting Hattiesburg's mural trail, we encourage you to share your experience on social media using the hashtag, #HattiesburgPublicArt.
THE LUCKY RABBIT
The Lucky Rabbit is a unique retail experience that offers a curated selection of goods from local and regional makers. The shop specializes in handmade items, vintage finds, and home goods.
You'll find vintage arcades, cola machines, video games, etc. The Lucky Rabbit is the perfect place to find a unique gift or treat yourself to something special. In addition to the great selection of goods, The Lucky Rabbit also offers a variety of workshops and classes. These range from calligraphy to cake decorating and everything in between.
HGTV recently featured Hattiesburg in its Home Town series, with The Lucky Rabbit helping showcase the charm of this city.
HATTIESBURG SAENGER THEATER
This next activity is perfect for a rainy day. The Hattiesburg Saenger Theater is a historic movie theater built in 1929. Located in the heart of downtown, the theater is on the National Register of Historic Places.
The Hattiesburg Saenger Theater screens various movies, from new releases to classics. You can also catch live performances at the theater, ranging from musicals to stand-up comedy. With 997 seats, the Hattiesburg Saenger Theater is guaranteed to get your blood pumping.
If you get hungry after the show, there are a number of restaurants located nearby. They are all within walking distance, so you can make a night of it without having to drive!
MOHAWK STEEL AND GLASS
Satisfy your artistic side by visiting Mohawk Steel and Glass. This local business offers a variety of handcrafted goods, from jewelry to home decor. Jeremy Thomley is the man behind the magic, and he has a true passion for his work.
The artists at Mohawk Steel and Glass use a combination of new and traditional glassblowing techniques to create their one-of-a-kind pieces. You can watch them work in their studio, which is located at the back of the shop.
They also offer classes, so you can learn how to make your own glass creations. Their teaching sessions range from beginner to advanced, so there's something for everyone.
MEDICINE WHEEL GARDEN
In Native American culture, the medicine wheel is a sacred symbol representing the circle of life. The Hattiesburg Medicine Wheel Garden is a beautiful tribute to this tradition.
The garden is made up of indigenous plant species, and the path through the garden is lined with stones from all over Mississippi. The Hattiesburg Medicine Wheel Garden is a peaceful oasis in the middle of the city.
Located on the University of Southern Mississippi campus, the garden is open to the public. It's a great place to take a break from exploring and relax in nature.
ALL AMERICAN ROSE GARDEN
In a similar vein, the All American Rose Garden is another beautiful spot on the University of Southern Mississippi campus.
The garden is home to over thousands of roses, making it a popular spot for weddings, celebrations, and other events. The All American Rose Garden is also a popular trail to stroll and enjoy the tranquil surroundings.
A statue of a fierce eagle welcomes you as you enter the garden, and a pond adds to the peaceful atmosphere. The botanical gardens take around two hours to explore, and they're free to visit.
DOWNTOWN HATTIESBURG GUIDED TOUR
Learn about the history and culture of Hattiesburg on a guided tour of downtown. Local experts lead the tours, and they cover a wide range of topics, including many stops on this list. You'll learn about the city's founding, its role in the Civil War, and its transformation into a thriving college town. The tours also highlight the architecture and art of downtown Hattiesburg.
The Hattiesburg guided tours typically last around 2-3 hours and are very history-rich. Multiple types of tours cater to different interests, so check out the website for more information.
You might be interested in a walking tour highlighting the Civil Rights movement with the Freedom Summer Trail. Or perhaps, you might want to embrace your inner foodie with a Burger and Brews Tour. The choice is yours!
DAY TRIP DESTINATIONS
Finally, Hattiesburg is a great base for exploring the rest of Mississippi.
One option is to head to the Gulf Coast and enjoy the beaches, or you could visit one of the many state parks, such as De Soto National Forest. Here are some other great day trip destinations we know you'll enjoy.
BILOXI
Biloxi is a beach town located on the Gulf Coast of Mississippi. The town is known for its sandy beaches, seafood restaurants, and casinos. Due to this landscape, Biloxi is highly popular among tourists.
Once called 'the longest man-made beach in the world,' Biloxi's 12 miles of sand along the Mississippi Sound has attracted sun-worshippers for generations. The city is also known for its fresh seafood. Visitors can find everything from oysters to catfish at the local seafood markets and restaurants.
The most popular casino is the Hard Rock Hotel & Casino Biloxi, which opened in 2005. The casino features a hotel, restaurants, bars, and a theater. Other casinos in the area include the Beau Rivage Resort & Casino and the IP Casino Resort Spa.
MOBILE
Another day trip option from Hattiesburg is Mobile, Alabama. This city is located about an hour and a half away from Hattiesburg.
Mobile is known for its historic downtown area, which is full of museums, art galleries, and restaurants. The most popular attraction in the city is the Mobile Carnival Museum, which chronicles the history of Mardi Gras in Mobile.
Since it is a port city, also of the Gulf of Mexico, Mobile is also a great place to enjoy fresh coastal air and seafood. Visitors can take a ferry ride to Dauphin Island or explore one of the many parks in the city, such as Battleship Memorial Park.
Finally, Mobile is also known for its oak trees. These trees are a big part of the city's culture and history, and they can be found throughout downtown Mobile.
MORE INFORMATION FOR YOUR TRIP TO MISSISSIPPI
YOU MIGHT ALSO ENJOY
WHERE TO STAY IN HATTIESBURG MS
Follow us here: Facebook | Twitter | Instagram | Pinterest | YouTube | MSN | TripAdvisor | Flipboard
All articles belong to 365 Atlanta Family LLC, and all photos belong to us as well, unless otherwise noted. It's all copyrighted. Please don't repost anything elsewhere without asking me first. All rights reserved. This site uses cookies to enhance your experience.
We make no guarantees of any price listed on our site. We are not responsible for content on external web sites linked from ours, including linked resources, an external blog post, any partner site, hotel property sites, or affiliate sites. We only write about places we love in an attempt to help you in your adventures, but we can't guarantee you will love them, too.
Posts may contain affiliate links at no cost to you. Several of our trips are also compensated by the respective tourism boards for the city or state we are visiting. This never impacts how we share the destination with you – opinions are always our own and we pride ourselves on that. We do not sell links or accept unsolicited guest posts under any circumstances. Don't even ask.
United States Copyright, 365 Atlanta Family, LLC
View our Privacy Policy | Subscribe to our Newsletter | Contact Site Owner | View Terms & Conditions | About Us
Latest posts by Hank Neutrino, Staff Writer
(see all)