Discover the world's longest cave system, enjoy the great outdoors, and learn about America's famous sports cars. With multiple things to do in Bowling Green, KY, we've come up with our favorite attractions and activities for you and your family to enjoy!
Whether you're visiting Southern Kentucky for an outdoor adventure or delving deeper into Kentucky's abundant history, there are choices for everyone. With museums, hikes, water parks and much more at your fingertips, uncover all this city has to offer for a fun filled trip.
MAMMOTH CAVE NATIONAL PARK
Kentucky's most visited National Park is ready to see you! Known for having the longest cave system in the world, this rare find and historic national park is a bucket list destination. It's the longest known cave system with over 400 miles of underground cave systems; the time is now to schedule a guided tour and escape to a new reality.
Looking for a family friendly activity? Schedule a tour through the massive chambers and large rock formations of the caves. Looking for a bit more adventure and challenge, book a wild cave tour to push your limits. Are you looking for a cultural history tour, learn the stories of early explorers and understand the rich heritage surrounding the caves.
There is however more to Mammoth Cave National Park than just its impressive cave system; with miles of hiking trails available, feel free to wander and hike at your leisure. Explore the park's beautiful eco-system and plan your hike to Sunset Point to view Green River Valleys exquisite foliage and bright colors throughout the seasons.
While cave tours and hiking are high on the list of activities, you can also choose to go biking, horseback riding, canoeing or camping on your visit.
Read More: 11 FAVORITE THINGS TO DO IN KENTUCKY WITH KIDS
BEECH BEND AMUSEMENT PARK & SPLASH LAGOON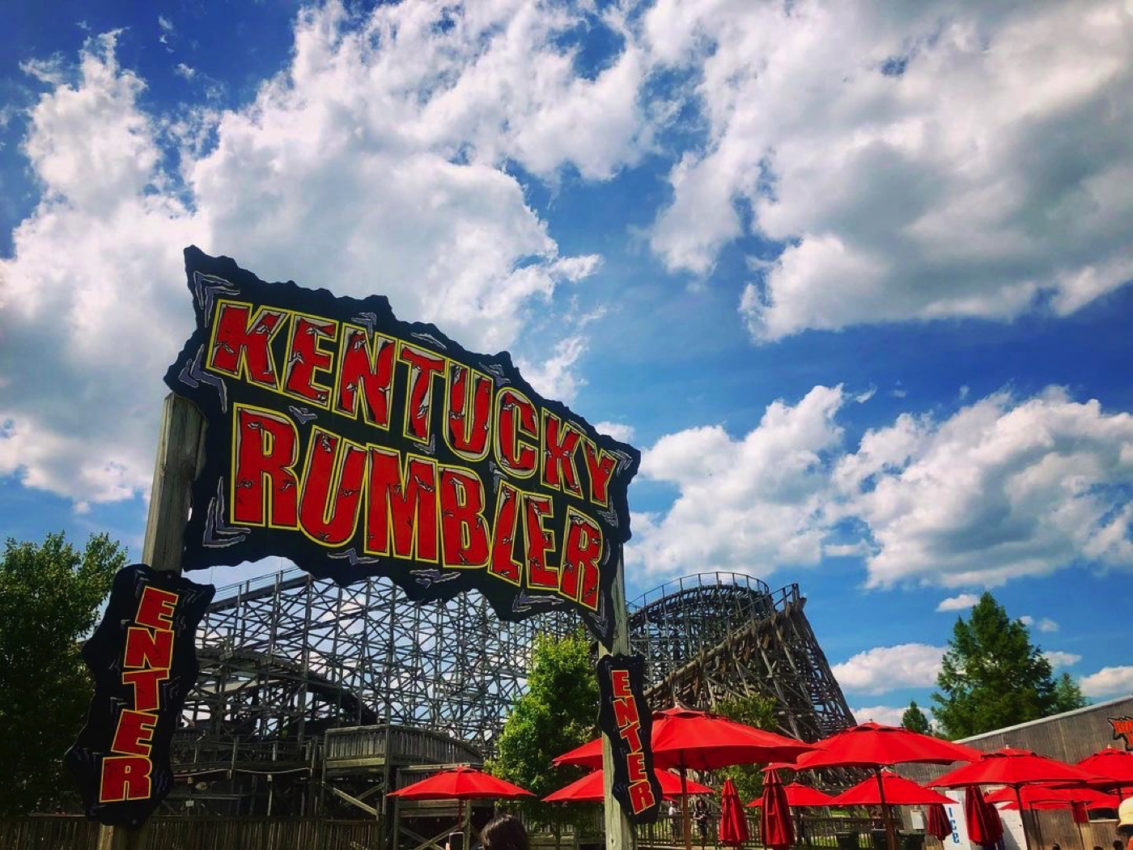 Who's ready for a day splashing in the sun? Your trip to Bowling Green isn't complete without a day at Beech Bend Amusement Park and Splash lagoon! Sat in the rolling hills, among beech wood trees and the Barren River is a family friendly park with endless joy.
With thrill rides, family rides and child rides available at Beech Bend Park, all ages are welcome, and it's encouraged to partake in the excitement. With classic rides and fan favorites like bumper cars, you don't want to miss out on one moment.
With Bowling Greens hot summers, cool down and enjoy swimming at Splash Lagoon Water Park. From relaxing poolside to high adrenaline water activities, there is something for everyone! Rest in the lazy river, dive into the waves at surf's up wave pool, and slide from new heights from multiple water slides.
Check online during different seasons to see what rides are open and if they're offering specials or events.
BAKER ARBORETUM
What's better than immersing in nature surrounding the rolling hills of Kentucky. Charming and quintessentially alluring, the Baker Arboretum sits on almost 115 acres and has over 600 species to enjoy year-round. With preservation at the forefront, the picturesque Arboretum ranks highly with research and education.
If you plan on visiting Western Kentucky University, take time to visit the Arboretum as it overlooks the university. With magnolia trees, dogwoods, Japanese maples and many more, this landscape designed by Mitchel Leichardt is marvelous.
While spring and summer season blooms bright colors, the fall and winter showcases warm colors that complement the scenic outlooks. Before you book, be aware it's always closed on Sundays and Mondays, and the winter months have shorter hours.
Wander, admire and learn why trees, plants and shrubs are so important to ecosystems and why they thrive in Bowling Green. After exploring the grounds, pop into the museum to admire beautiful art from the late Joe Downing, a Kentucky native.
FOUNTAIN SQUARE PARK
Step into the past and walk-through history in Fountain Square Park. This is the perfect place to relax, walk, and explore Bowling Green square in the middle of downtown. Surrounded by restaurants, cafés and shops, stroll around the park, and enjoy the scenery with loved ones or by yourself for a bit of peace and quiet!
With a bustling downtown area this green space provides an area of solace and peace to be enjoyed by all. As you're walking take notice of markers in memory of past residents, a flagpole in respects for Airforce Veterans, glorious arches, and the iconic fountain. This Park brings community and culture together and is sometimes described as the heart of Bowling Green.
With the iconic fountain landmark, the park has been around since before the Civil War and has endured years of change. The Park has a lovely landscape and it's the perfect location to see historic brick buildings. Through time the park and buildings have drastically changed, however today you can partake in seasonal events, weddings, and summer concerts whenever you desire.
Fun Fact: Fountain Square Park appears on the official seal for Bowling Green!
NATIONAL CORVETTE MUSEUM
Let's get ready to hear those engines roar! Home to America's sports car, the National Corvette Museum takes you on a journey of celebrating the lifespan of corvettes and honoring the sports cars future. Learn about Corvettes' history, race at NCM Motorsports Park, get behind the wheel of a Corvette stimulator and preserve America's favorite sports car.
Entertaining for all ages, this family friendly museum has kid zones, interactive exhibits, guided tours and much more to be seen. See classic, vintage and modern cars and marvel at the American dream on wheels. Test your knowledge, learn something new and share the love for sports cars.
From vintage Corvettes to brand new designs there is most definitely a car for everyone. See first-hand the effects of the 2014 sinkhole in an immersive exhibit and learn about what happened below your very feet. With such devastation, marvel at the cars restored and feel loss at the cars destroyed from that day.
Whether you're a car enthusiast or just along for the ride, today's the day to pick the car of your dreams from the Corvette assembly plant.
Skip the Lines: National Corvette Museum Admission
LOST RIVER CAVE
Nestled away, unseen from eyes, sits Lost River Cave. Discover and tour this hidden gem that flows under 60 acres of trails and is known for being the shortest and deepest cave in the world. Hop on a cave boat tour and float through, uncover something new and view one of Bowling Greens famous tourist attractions!
Disappearing underground, surrounded by jaw dropping beauty this cave is open year around and offers fun activities for all. This cave has been used for shelter, water, and training for Native Americans, Early European settlers, Civil War troops and even the notorious Jesse James. Listen as stories are shared and history is taught among the limestone walls that surround you.
A natural wonder for all ages, an adventure certainly awaits. Not only are guided boat tours available, but kayaking and hiking trails are available too. You can regularly check for new summer events and special boat tours, as some tours push the edge of exploration and have you uncover more. What's stopping you, a new quest awaits.
AVIATION HERITAGE PARK
Since the early 20th century, Southern Kentucky has had a huge influence on Aviation. From their pilots, war hero's, commanders and many more trailblazers their achievements are showcased and inspiring at Aviation Heritage Park.
The stories shared tie together aviators and aircrafts, and when you uncover the facts, they tell a heroic story of American Aviation. See first-hand the amazing UH-1 Huey Helicopter and F-4D Phantom II 550 and learn the impact it carries within Bowling Greens records.
This is a nice little activity if you have a couple hours spare and are really interested in military aircrafts. With informational plaques placed around the park, it is easy and accessible to view the material. Admission is free and donation boxes are available to help with the upkeep of the park.
In other great news they're also expanding. With construction in progressive for a new indoor Museum, there'll hopefully be more to see next time you visit.
HISTORIC RAILPARK & TRAIN MUSEUM
All Aboard the Historic Railpark and Train Museum Express!
With informative and interactive exhibits, people of all ages will hear and view Kentucky's finest antique trains, artifacts and noteworthy people. With an impressive model train set up, engines and old rail cars this museum set in the 1925 L&D Depot is impressive.
What's even more extraordinary is the history detailing segregation in the railroad era. Learn where workers slept, worked and the life they endured while working the Kentucky railroads. I highly recommend booking a guided tour to grasp the culture and history of working the railroads.
When you're finished with the museum head over to the Railpark where you get in and tour 5 different trains. From sleeper cars, army hospital cars to my personal favorite, the railway post office car, review history and applaud the achievements that modern day rail cars have reached.
Fun Fact: Look out for the old advertisements and posters throughout the experience, to grasp railroad lives!
Skip the Lines: Historic RailPark & Train Museum Entry & Tour
WESTERN KENTUCKY UNIVERSITY
Are you ready to be a Hilltopper?
Whether you're planning a campus visit, going to see an enrolled student or faculty member, WKU is known for having one of the most beautiful campuses in the South. With a small class size and great student to teacher ratio this University is appealing to many students from Kentucky and around America.
The campus was founded in 1906 and remains a large public university. Tour the campus and see the statue of Dr. Henry Hardin Cherry, WKU's founder, or stare at the beautiful and bright grounds sitting in the rolling hills of Bowling Green.
From the moment you step onto the campus its positive and vibrant culture can be seen throughout. Maybe if you're lucky you'll get to meet Big red!
THE KENTUCKY MUSEUM
Based within the University of Western Kentucky's campus, the Kentucky Museum showcases historical and present-day work, leaving you inspired and drawn to Bowling Green's past. With multiple collections and new exhibits, it's easy to find several areas of interest.
The museum does an unbelievable job at displaying the history of Southern Kentucky's role in the Civil War. Where they focus on local history and the divided allegiances of families and lives of slaves. While walking through exhibits, view letters Kentucky residents wrote during the civil war, see flags that were flown and weapons used. Learn the important role Kentucky played during the civil war and discover Bowling Green's huge influence in the war.
The museum can easily be seen in 2 hours and the information is easy to comprehend for all ages. Other exhibits to look out for are Styles &thegiftsofit, Recommended: by Duncan Hines and Gazing Deeply: The Art and Science of Mammoth Cave.
Quick note: This museum is only open Wednesday- Saturday, 9am-4pm.
RIVERVIEW AT HOBSON GROVE
Have you ever been interested to see how a family lived in the Victorian era? Well… when you visit Riverview at Hobson Grove in Bowling Green, Kentucky you can!
Built by Atwood J. Hobson, high on a hill is a historic landmark that can be toured in the city. This house has seen it all; from originally storing confederate munitions and stationing soldiers during the civil war, to then becoming a personal estate, this home has years of history ready to be heard and seen.
Step inside and experience the reality of living in a prosperous family, with period pieces from the 1860-1990s. Take a guided tour and look at family memorabilia, photos, paintings, and personal items that are reminiscent of the civil war era. Hobson Grove features stunning gardens that's necessary to be seen and walked to get a proper feel of the property.
NCM MOTORSPORTS PARK
Do you like driving fast cars? Do you like seeing fast cars? Do you love Corvettes? Then the NCM Motorsports Park is meant for you! Drive America's sports car on its very own track!
Whether you drive your own Corvette or rent a Corvette from the track, experience the thrill and adrenaline rush on the 3.4 mile motorsports track. With driving schools, exclusive 1-day driving experience day with Adam Pilgrim or driving tours around the track, choose how to make YOUR drive, worth it. All drivers must be 18 years or older and sign an agreement!
The purpose of this track is to have a safe environment where people can enjoy driving and spend time with friends and family. If this is something you want to do in Bowling Green, plan, open the throttle and find the need for speed!
SHANTY HOLLOW LAKE HIKING TRAIL
Relax, take in nature, and appreciate the great outdoors at Shanty Hollow Lake Hiking Trail. Escape the hustle and bustle of Bowling Green and go for an enjoyable and peaceful hike.
With beautiful rock formations, a calm lake, and rugged terrain, this is the perfect way to reflect on the busyness of life. The 1.6-mile loop is not difficult to hike but does have moderate foot traffic. If you follow the hiking trail you will eventually reach a little waterfall, but be careful as it may be a bit wet. The best time to see the waterfall is after a heavy rain, so plan accordingly.
Wear comfortable shoes as there will be points you might be climbing over fallen trees or crossing slippery pathways. This hike is suitable for families and older children but come prepared and be cautious at times.
In the summer months feel free to swim in the lake and enjoy picnics amongst the gorgeous scenery. This is a no-wake lake so it's perfect for paddling and families with children! I always believe there's no better way to end a busy day, then with a calming walk.
MORE THINGS TO DO
BASIL GRIFFIN PARK
Basil Griffin Park is a crown jewel surrounded on three sides by manmade boundaries and on the fourth side by a line of trees next to a small farm. It is the home of Aviation Heritage Park, a disc golf course, a honkey rink, a horseshoe pit, plus lake and fishing access.
CHANEY'S DAIRY BARN
This Dairy Farm offers homemade ice cream and other goodies from their own Jersey Cows. Individual and group farm tours are available seasonally. They also have a playground for the kids, a jumping pillow, tons of fun, and an on-site restaurant. This is also a perfect place to hold a birthday party or an event.
BOWLING GREEN FAQ
What is Bowling Green known for?
Bowling Green is known for being a university city, Mammoth Caves NPS and the home of the Corvette. Be sure to stop by the National Corvette Museum.
Is there a National Park in Bowling Green?
Yes, Mammoth Caves National Park is in Bowling Green, and it is the #1 tourist attraction in Kentucky.
What movies were filmed in Bowling Green?
Some of the most popular movies filmed in Bowling Green include Diamonds Are a Girl's Best Friend, Billy the Kid: Showdown in Lincoln County and Utopia Means Nowhere.
MORE INFORMATION FOR YOUR TRIP TO THE MIDWEST
WHERE TO STAY IN BOWLING GREEN
Follow us here: Facebook | Twitter | Instagram | Pinterest | YouTube | MSN | TripAdvisor | Flipboard
All articles belong to 365 Atlanta Family LLC, and all photos belong to us as well, unless otherwise noted. It's all copyrighted. Please don't repost anything elsewhere without asking me first. All rights reserved. This site uses cookies to enhance your experience.
We make no guarantees of any price listed on our site. We are not responsible for content on external web sites linked from ours, including linked resources, an external blog post, any partner site, hotel property sites, or affiliate sites. We only write about places we love in an attempt to help you in your adventures, but we can't guarantee you will love them, too.
Posts may contain affiliate links at no cost to you. Several of our trips are also compensated by the respective tourism boards for the city or state we are visiting. This never impacts how we share the destination with you – opinions are always our own and we pride ourselves on that. We do not sell links or accept unsolicited guest posts under any circumstances. Don't even ask.
United States Copyright, 365 Atlanta Family, LLC
View our Privacy Policy | Subscribe to our Newsletter | Contact Site Owner | View Terms & Conditions | About Us
Latest posts by Beth Hoad, Staff Writer
(see all)
Latest posts by Beth Hoad, Staff Writer
(see all)